I love going to the cinema in December it is when the movies are at their most diverse. There are the Christmas movies, the kids films, a few blockbusters and the start of the award season swarm. There is a little something for everyone. Here is what I am most looking forward to this December.
1) Frozen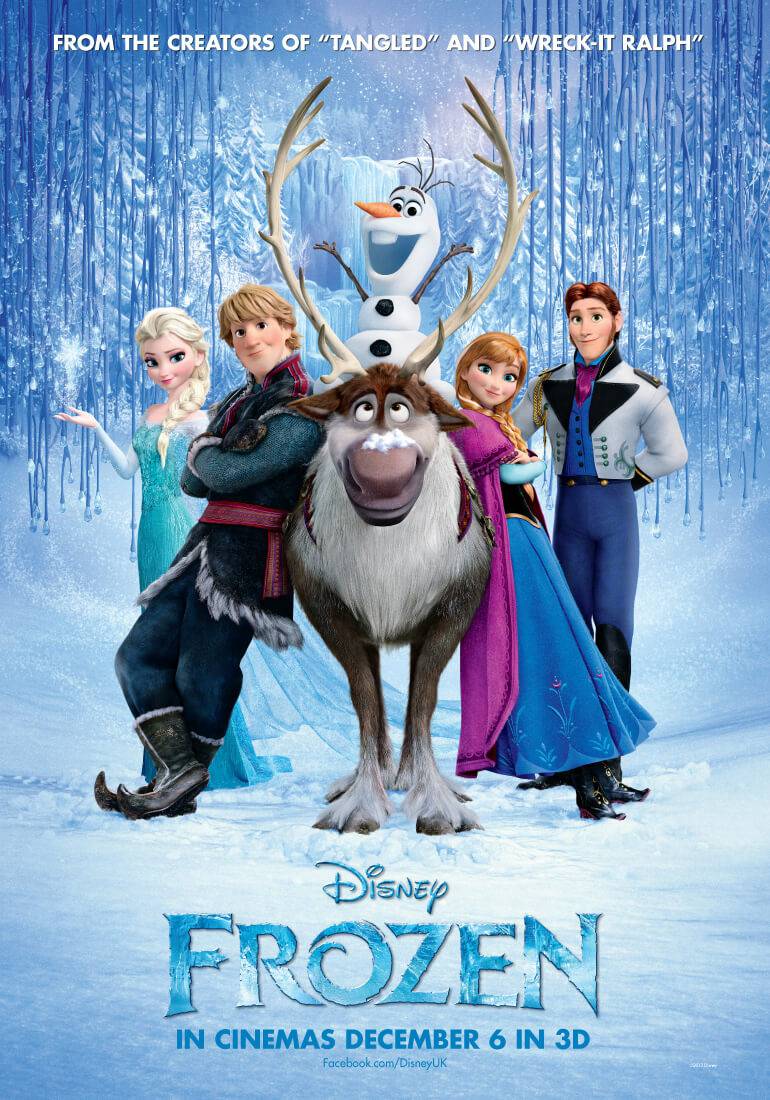 I am not one of those Disney people, even as a child I was never really a fan of the animations. The live action movies are fine but the animations have always been a little hit or miss for me. Don't get me wrong there are some I love
(Lady and the Tramp, Up, Wall-E) but generally speaking I do not care for them much, and have much preferred DreamWorks offerings (although I am not a huge fan of them either.) It is then rather surprising that I am so excited for Frozen, and I am really, really excited. The trailer is amazing it looks absolutely stunning which I kind of expect but it also looks funny. More funny then most Disney movies normally are. Funny enough for me to actually go to the cinema and see and animation something I haven't done since (don't hurt me) The first Ice Age movie.
Synopsis:
Anna, a fearless optimist, sets off on an epic journey - teaming up with rugged mountain man Kristoff and his loyal reindeer Sven - to find her sister Elsa, whose icy powers have trapped the kingdom of Arendelle in eternal winter. Encountering Everest-like conditions, mystical trolls and a hilarious snowman named Olaf, Anna and Kristoff battle the elements in a race to save the kingdom. From the outside Anna's sister, Elsa looks poised, regal and reserved, but in reality, she lives in fear as she wrestles with a mighty secret-she was born with the power to create ice and snow. It's a beautiful ability, but also extremely dangerous. Haunted by the moment her magic nearly killed her younger sister Anna, Elsa has isolated herself, spending every waking minute trying to suppress her growing powers. Her mounting emotions trigger the magic, accidentally setting off an eternal winter that she can't stop. She fears she's becoming a monster and that no one, not even her sister, can help her.
Frozen is released in the UK on 6th December and is directed by

Chris Buck

&

Jennifer Lee.
2) Kill your Darlings
Kill Your Darlings has a great subject, Allen Ginsberg, Jack Kerouac and William Burroughs changed literature in their own way forever and seeing part of their story will be interesting. But the reason that this movie is on my list is the casting. I have never been a big Harry Potter fan but Daniel Radcliffe's post Potter career has impressed me. I loved The Women in Black but it is his turn in the wonderful, and under watched A Young Doctors Notebook that has really turned me into a fan. But it is not really Radcliffe that I am super excited about it is Dane Dehaan. Dehaan is one of those actors that just belong on screen. I cannot recall one moment where he has not been amazing. True Blood, Chronicle and Lawless showed off just some of this guys talent and I hope that Kill Your Darlings will really be the making of him. Add in the always awesome Michael C Hall, Ben Foster and Elizabeth Olsen and this is almost a dream cast. I cannot wait to see what they can do together.
Synopsis: A murder in 1944 draws together the great poets of the beat generation: Allen Ginsberg, Jack Kerouac and William Burroughs.
Kill Your Darlings is released in the UK on 6th December and is directed by

John Krokidas.
3)

The Hobbit: The Desolation of Smaug
Middle Earth is pretty special to me, as a child my mother used to read Tolkien to me before bed. As a teenager Peter Jackson's Lord of the Rings made me fall in love with movies and inspired me to travel not only to New Zealand but around the world. The Desolation of Smaug is the easiest title for me to put on this list. it is not just my personal feelings towards this movie that has me excited there is Smaug the dragon, Lee Pace's Thranduil
and Luke Evans as Bard the Bowman.
I have always thought that Peter Jackson's casting is impecable so I am excited to see what the new comers will bring to this movie.
Synopsis:
After successfully crossing over (and under) the Misty Mountains, Thorin and Company must seek aid from a powerful stranger before taking on the dangers of Mirkwood Forest--without their Wizard. If they reach the human settlement of Lake-town it will be time for the hobbit Bilbo Baggins to fulfill his contract with the dwarves. The party must complete the journey to Lonely Mountain and burglar Baggins must seek out the Secret Door that will give them access to the hoard of the dragon Smaug. And, where has Gandalf got off to? And what is his secret business to the south?
The Hobbit: The Desolation of Smaug is released in the UK on the 13th December and is directed by Peter Jackson.
4) 47 Ronin
I know this will probably be crap. I am prepared for it, but it doesn't make me want to see it any less. Why? Because it has so much stuff in it that I am interested in. I love Japanese history especially anything relating to the Samurai and the myths and legends surrounding them. I also love Keanu Reeves for reasons I am not quite able to explain. He is not the best of actors (not the worse either) but there is just something about him that makes me back him and it is super awesome to see him back on the big screen. It also features Hiroyuki Sanada who made a lasting impression on me in The Last Samurai and Rinko Kikuchi who is best known for playing Mako Mori in Pacific Rim.
Synopsis: A band of samurai set out to avenge the death and dishonor of their master at the hands of a ruthless shogun.
47 Ronin is released in the UK on the 26 of December and is directed by Carl Rinsch.
By Kate Phillips, all synopsis taken from IMDB