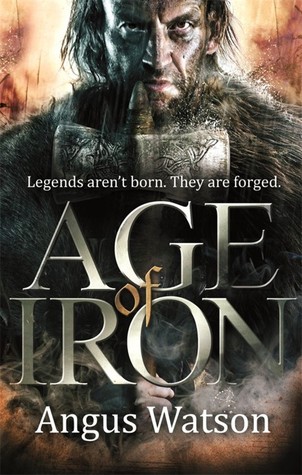 LEGENDS AREN'T BORN. THEY'RE FORGED.

Dug Sealskinner is a down-on-his-luck mercenary travelling south to join up with King Zadar's army. But he keeps rescuing the wrong people.

First, Spring, a child he finds scavenging on the battlefield, and then Lowa, one of Zadar's most fearsome warriors, who's vowed revenge on the king for her sister's execution.

Now Dug's on the wrong side of that thousands-strong army he hoped to join ­- and worse, Zadar has bloodthirsty druid magic on his side. All Dug has is his war hammer, one rescued child and one unpredictable, highly-trained warrior with a lust for revenge that's going to get them all killed.

It's a glorious day to die.
We must accept that adversity is the way of the gods when we lose those we love. We must remember that they are not lost and we will see them again. But there is no point looking for them in this world.
I was really excited to read Age of Iron.

I had been told by others that if I liked Game of Thrones I would probably like this.

I love the Song of Ice and Fire series and the Game of Thrones TV show so I was hoping that I would be impressed by Age of Iron.

I was a little nervous about the genre.

This is the first time I've read historical fantasy (normally I read either or) and I was unsure if I would like it.

In the end I had nothing to worry about, I did like this genre and despite being nothing like Game of Thrones (which is a good thing I think) I did enjoy this book.
Age of Iron is an 'in your face' kind of book.

There is a lot of swearing and A LOT of violence.

Generally I don't mind that kind of stuff as long as it is justified which in Age of Iron it mostly was.

There was a little too much graphic violence towards children for me but at the same time I understand that this book is set in a violent time in our history and that children were not exempt from it.

I did feel that the use of language was a little out of place for a historical novel but I quickly got over that.
Technically I found Watson's writing impressive.

His style is blunt instead poetic which works well in this genre.

The descriptions and world building were very good and I found it easy to disappear for an hour or two into his grizzly world.

The action was fast paced and existing and the moments of humour well placed.
The story itself was exciting and interesting; it built to a satisfying end and promises a lot for the sequel.

I did feel that it was a little too long and it started to drag a bit towards the end, it could have been 50-100 pages shorter and still been just as good.
The stand out aspect of this book was the characters.

I thought they were all very diverse and full of personality.

Dug was impossible to dislike he played the hard man but inside he was just a big softy.

Despite trying not too he wore his heart on his sleeve and I emphasised with him lot.

Lowa was another great character and one hell of a strong woman.

Simply put there are not enough female characters like Lowa in the fantasy genre.

Yes she is beautiful but she is also brave, tough, intelligent and capable of great compassion.

I didn't quite get the romance between Lowa and Dug I felt like I was being constantly bombarded with reasons why they were ridiculous together and given no reasons why they weren't.

The other characters were good but I didn't like or understand them as well as I did Dug and Lowa. I struggled with Spring which was a shame as she is such an important character.
Despite liking the story, writing and characters I still couldn't quite fall in love with this.

I liked it a lot but didn't connect with it as much as I could have done.

Hopefully I will have better luck with the sequel which sounds bigger and darker.
4 stars
Published September 2nd 2014 by Orbit, 560 pages, paperback
Iron Age book 1
A free copy of this book was provided in exchange for an honest review.
Find out more about this book by following the book tour!
Review by Kate Phillips