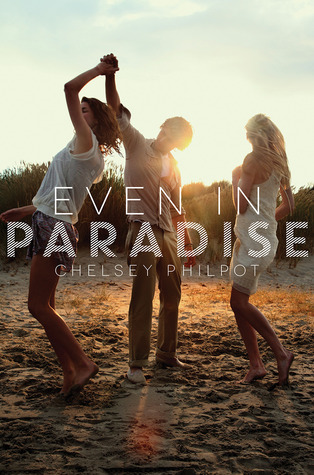 When Julia Buchanan enrolls at St. Anne's at the beginning of junior year, Charlotte Ryder already knows all about the former senator's daughter. Most people do... or think they do.

Charlotte certainly never expects she'll be Julia's friend. But almost immediately, she is drawn into the larger than-life-new girl's world—a world of midnight rendezvous, dazzling parties, palatial vacation homes, and fizzy champagne cocktails. And then Charlotte meets, and begins falling for, Julia's handsome older brother Sebastian.

But behind her self-assured smiles and toasts to the future, Charlotte soon realizes that Julia is still suffering from a tragedy. A tragedy that the Buchanan family has kept hidden … until now.
Retellings appear to be the in fashion genre for YA authors at the moment.

I have come across many of them and have only liked a few.

If I am honest I wasn't all that fussed about reading Even in Paradise.

It is a reboot of Brideshead Revisited which I didn't think would work as YA.

It is also about rich and entitled people which again is not really my thing and didn't really appeal to me.

I requested a review copy of this book on a whim and then was faced with the reality of having to read it when I didn't really want to.

It was a silly thing to do and I shouldn't have done it but I am sure glad I did because Even in Paradise ended up being the best contemporary YA book I have read in a really long time.
In terms of writing Even in Paradise is simply gorgeous.

Everything about this book is just beautiful and of such a high standard.

It is hard to believe that this is a debut as the quality is so high.

Every description, conversation and character is just bursting with life.

The world was built exceptionally well and it took me no time at all to get completely lost in the pages every time I picked this book up.
The story itself was everything I could have wished for.

It was funny and emotional and most importantly realistic.

Philpot could have filled the pages with angst and drama but instead decided to stick with some realism.

Growing up is both wonderful and difficult.

Most of the first loves and best friends made in our teens are lost to us at some point.

That lose is undeniably painful but it is a part of growing up and is unavoidable.

I truly applaud Chelsey Philpot for giving this book the ending it deserved not the ending more readers would love to read.

That's not to say this book doesn't have a happy ending, it does, but perhaps not the ending you are expecting.
What really makes this book work is the characters.

Even in Paradise is told (in pretty amazing past tense) by Charlotte who is quite literally your average teenage girl.

She doesn't have a huge personality and she isn't going to blow you away with her awesomeness but that it ok, that job falls to Julia, Charlotte's best friend.

In reality this is Julia Buchanan's book she is full of bubbly personality and charm, yet under all that is a vulnerable and unstable young woman who needs some help.

It is easy to see how Charlotte fell in love with Julia and the rest of the Buchanan's because in my own way I did too, despite the pomp and lavish lifestyle they led.
The romantic element of this book is between Charlotte and Sebastian, Julia's brother.

It is pure and beautiful but is never really the focus of the book.

Again Philpot moves away from the norm and makes the main relationship between two friends instead of lovers.

This worked for me and I found it balanced the story nicely.
There were a couple of negatives (the French got a little annoying) but for the most part I found little to complain about.

Even in Paradise is a great read that I really hope will get the attention it deserves when it is released in October.

Chelsey Philpot is a fantastic new talent in YA literature and I hope to read more from her soon.
4 stars
Genre: Contemporary Romance, YA
Release Date: 14th October 2014
Published by: Harper Collins
A free copy of this book was provided by the publisher in exchange for an honest review.