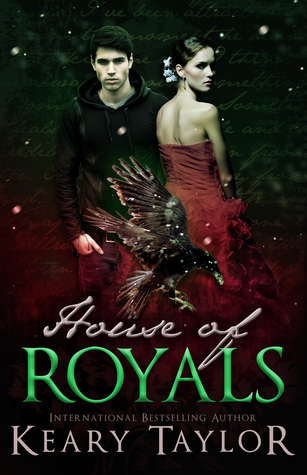 Every town has its history and skeletons, but Silent Bend, Mississippi's are darker than most. Ruled from the shadows by the House—the immortal Born and their aging, enslaved Bitten—everyone knows not to go out after dark and that the police will never look into crimes involving blood.

Alivia Ryan didn't know the man who claims to be her father through a will even existed until she inherits the Conrath plantation. Instead of the sleepy house she expects, she finds a mansion and a staff who look at her with fear in their eyes.

Ian Ward tried to kill Alivia the first time they met, and then insisted he train her to defend herself against the House, who he claims will try to manipulate and take her in for their own political reasons. And the growing attraction between them will threaten their lives—Ian is a sworn enemy of the House.

In Silent Bend, people disappear, the threat of a demented King and the legend of his resurrecting Queen hang over everyone's heads, and proving loyalty means far more than blood. You'd better watch who you trust in this town.
Sometimes I read a book that just makes me want to cry. Not because it is sad, or because it made me laugh too hard. Sometimes books make me want to cry because I really, really wanted then to be great and instead they ended up being the opposite. This is where I am with House of Royals, I am in a land of bitter disappointment. It wasn't supposed to be like this. I am a fan of Keary Taylor and I thought the description for this book sounded epic yet somehow it all went wrong. I am saddened to say that I didn't like anything about this book.

A while back I read a book by Keary Taylor called What I didn't Say. It was a beautiful book full of emotion and gorgeous writing. I feel like The House of Royals is the complete opposite. It had none of the magic I found in What I Didn't Say.

I thought this book was all over the place. I found the writing stale and confusing. I felt like nothing was explained properly and that not enough time was given to important things. The time line jumped constantly, in the middle section of the book it felt like you couldn't read a paragraph without it jumping forward two weeks. This utterly devastated the romance and gave it no real chance to grow. On top of that I found the whole thing boring.

Unfortunately the characters were no better. There was nothing to them, no real personality. The romance lacked chemistry, structure and sparks of any kind.

I could go on but I don't really want to. It really upsets me to write such a scathing review of a book written by an author I truly respect.
1 star
Find out more:
House of Royals by Keary Taylor book 1 in the House of Royals series.
Published June 21st 2015 by CreateSpace Independent Publishing Platform, 224 pages.
A free copy of this book was provided in exchange for an honest review. Image courtesy of Goodreads.