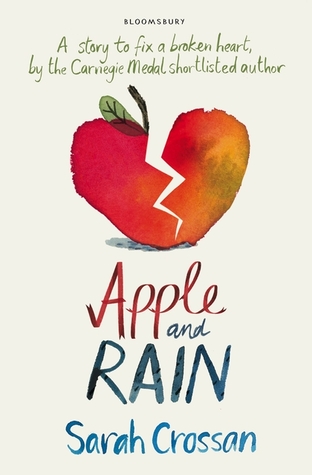 When Apple's mother returns after eleven years away, Apple feels whole again. But just like the stormy Christmas Eve when she left, her mother's homecoming is bittersweet. It's only when Apple meets someone more lost than she is that she begins to see things as they really are.

A story about sad endings.
A story about happy beginnings.
A story to make you realise who is special.
Sarah Crossan is an author I know quite well, I've read her Breathe series and I even met her once but Apple and Rain is the first contemporary book of hers that I have read. I don't really know what I was expecting from this, the description sounded painful and I got the impression that this book would be a hard read. The two books in the Breathe series were not much help in determining what to expect from Apple and Rain. They are dystopia books full of rich world building, they could not be more different than Apple and Rain. In the end Apple and Rain turned out to be nothing like I expected and I found it quite different from other books I have read. It was realistic, touching and took me by surprise with its intelligence.

The writing in Apple and Rain is great, the main character Apple is quite young, only 13, and Crossan managed to find her voice with little effort. There was nothing over the top about this book, no dramatics, no heavy descriptions. Instead it focused on the emotions of a child as she went through some difficult times.

The storyline itself was heart breaking, I really felt for both Apple and Rain. This is a book about family and friendship, it is a coming of age story about sisters who are both lost. Mostly I think this is a book about growing up and how painful that process can be. I loved what Crossan did with the poetry theme that ran through the book, how Apple was inspired by a good teacher and a growing love of literature. I feel like a lot of thought was put into this book, it was lean and emotional without ever going to far.

The characters were good, they were all layered and full of personality. I didn't love nor hate any of them. I am not sure if that was the author's intention but I felt like it worked well. All of the characters are very real, they all have good and bad things about them. Each one at some point annoyed me and endeared themselves to me. Every character plays their part but it is the relationship between Apple and Rain that had all the impact in this book. This was a beautiful relationship full of ups and downs between very lost sisters. Crossan treated every aspect of not only this relationship but all the other issues in the book with utmost respect.

Although I didn't fall in love with this book, (to be honest it is not my kind of thing) I would still recommend it to young adult and adult readers. Sarah Crossan seriously impressed me with this novel and I look forward to reading more from her in the future.
4 stars
Find out more:
Published 2015 by Bloomsbury Publishing.
A free copy of this book was provided in exchange for an honest review. Image courtesy of Goodreads.