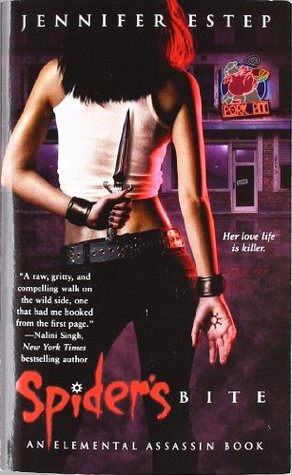 My name is Gin, and I kill people.

They call me the Spider. I'm the most feared assassin in the South — when I'm not busy at the Pork Pit cooking up the best barbecue in Ashland. As a Stone elemental, I can hear everything from the whispers of the gravel beneath my feet to the vibrations of the soaring Appalachian Mountains above me. My Ice magic also comes in handy for making the occasional knife. But I don't use my powers on the job unless I absolutely have to. Call it professional pride.

Now that a ruthless Air elemental has double-crossed me and killed my handler, I'm out for revenge. And I'll exterminate anyone who gets in my way — good or bad. I may look hot, but I'm still one of the bad guys. Which is why I'm in trouble, since irresistibly rugged Detective Donovan Caine has agreed to help me. The last thing this coldhearted killer needs when I'm battling a magic more powerful than my own is a sexy distraction... especially when Donovan wants me dead just as much as the enemy.
Finally! After what has felt like months I have managed to find an urban fantasy/romance book that I loved. I enjoy romance books a lot but recently they have not been doing much for me. Then Spider's Bite came along and my dry spell is fixed. It was just what I was looking for. I came very close to giving this book those elusive five stars but there was a couple of things that held me back, (getting five stars from me is difficult stuff.)

I knew I was onto a winner from the first page. Jennifer Estep writes in a style that suits my taste. Spider's Bite was humorous and dark, it's characters were layered and blunt. I cannot fault her writing, I found it engaging, and I cannot fault the plot which I found wickedly entertaining.

The characters were brilliant. I loved Gin, she is a straight talking bad ass with an attitude problem. My kind of girl. Gin is an assassin and she loves what she does. There is no conflict or guilt over what she has done. She kills people for a living and doesn't give a shit. I like that Estep took this approach, it would have been so easy to try and make Gin a nicer person by having her be full of angst and guilt. She also isn't afraid of sex, or of wanting sex. I like that too. In my opinion the romance genre could do with a few more Gin's.

The other characters were great too. Finn was awesome, he was cocky and arrogant but I liked it. It suited him and I found him endearing. Donovan was also great, he is probably the only person in the whole book whose morals are in perfect working order. This causes him issues when it comes to Gin, he despises her but he also wants her. I found that dynamic interesting but felt he was maybe being a little to stubborn at times.

I liked the romance between Gin and Donovan but I didn't love it. As individuals they were great, Gin especially, but together it didn't quite work for me. There was lots of chemistry, but I couldn't get behind it. I think my issue is that I can never see this relationship working, Donovan is never going to get over the fact that she is a killer and that fact that she feels no guilt about it. His morals are never going to let him be with her fully, even if he fell in love with her. I think Gin needs someone who can challenge her, who can meet her half way, she needs someone who wouldn't be ashamed of their relationship.

Apart from the romance this book was just what I was looking for and I fell in love with it. I am moving onto the next book in the series straight away and I cannot wait to see where Estep takes Gin next.
4 stars
Find out more
Spider's Bite by Jennifer Estep. Book one in the Elemental Assassin series. Published January 26th 2010 by Pocket Books
Image courtesy of Goodreads.