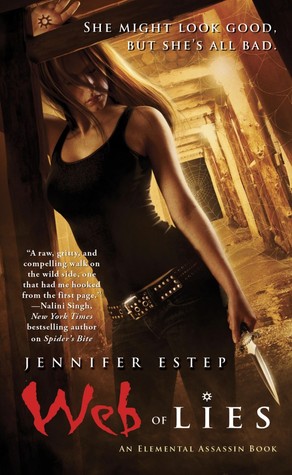 Curiosity is definitely going to get me dead one of these days. Probably real soon.

I'm Gin Blanco.

You might know me as the Spider, the most feared assassin in the South. I'm retired now, but trouble still has a way of finding me. Like the other day when two punks tried to rob my popular barbecue joint, the Pork Pit. Then there was the barrage of gunfire on the restaurant. Only, for once, those kill shots weren't aimed at me. They were meant for Violet Fox. Ever since I agreed to help Violet and her grandfather protect their property from an evil coalmining tycoon, I'm beginning to wonder if I'm really retired. So is Detective Donovan Caine. The only honest cop in Ashland is having a real hard time reconciling his attraction to me with his Boy Scout mentality. And I can barely keep my hands off his sexy body. What can I say? I'm a Stone elemental with a little Ice magic thrown in, but my heart isn't made of solid rock. Luckily, Gin Blanco always gets her man . . . dead or alive.
The Elemental Assassin series by Jennifer Estep is fast turning into one of my favourite Urban Fantasy book series. I loved Spider's Bite, the first book in the series and I enjoyed its follow up, Web of Lies just as much. Jennifer Estep has created a dynamic and interesting world packed full of characters you can't help falling in love with.

One of the things I love about this series is Jennifer Estep's writing. She knows how to weave a good story and keep the reader entertained. She is creative and her writing is full of atmosphere but it is also easy to read. There have been some negative things said about Estep's tendency to reiterate things a little too often and I have to say I agree. This book would have been a lot shorter if she didn't keep repeating herself. By this point readers know what the Pork Pit looks like, they know that Finn likes Chicory Coffee and that he and Gin slept together when they were younger. I have already started reading book three and everything is repeated again in that book. This repetition is my only complaint about the book and this series as a whole.

Plot wise I found Web of Lies as entertaining at Spider's Bite. There was not as much going on but it had a little bit more depth which made up for it. There were some really interesting parts and I like where the story is going and the growth Gin is making.

What really makes this series so great is its characters. I love Gin, she is my kind of girl. She is tough, smart but capable of feeling sympathy. She is hard on the outside and gooey soft in the middle. I think I liked her in Web of Lies more than in Spider's Bite. She faces some real challenges in this book she feels slightly betrayed by Fletcher the man she saw as a father, she has learnt that the sister she thought was dead is alive and well, and she has man problems in the form of Donovan Caine. Things are not looking great for Gin but she manages to hold herself with dignity despite all of that.

Donovan Caine is another complex character. Most reviewers do not seem to like him very much and I can understand that but I saw him a little differently. I really quite admired Donovan Caine. He has confusing and powerful feelings for Gin, he wants her as much as she wants him but his morals cannot let him be with a criminal, with a woman who takes life without remorse. His beliefs crush the romance giving it no chance at all but I can't help but think he done the right thing by leaving Gin behind. I like him for staying true to himself and what he believes in.
Web of Lies is a great addition to the Elemental Assassins series. I liked it a lot and I've already moved on to book three. I can't wait to see where this series goes in the future.
3 stars
Find out more
Web Of Lies by Jennifer Estep, Elemental Assassin book 2, Published May 25th 2010 by Pocket Books.
Image courtesy of Goodreads.